Local Asheville Ghost Stories

Erwin High School
By Sarah Harrison

In the 1970's, the new Clyde Erwin High school was built just outside Asheville. The
remnants of what was called the Old County Home Graveyard was dug up to make room for
the new building. The remains from this Potter's Field were moved across the street and
planted below unmarked wooden crosses. It's said that the restless spirits of those buried
here still haunt the school, and many janitors who have worked the night shift refuse to
recount the things they've experienced while inside. Unmarked graves are said to still lie
beneath the Potter's Field, overlooking the school.

Battle Mansion
By Sarah Harrison

The Battle Mansion is located near The Grove Park Inn. It is said to be haunted by a
servant girl named Alice, who fell or was pushed down the stairs, and the former owner
Dr. Samuel Battle. Dr. Battle has been seen wearing a top hat and formal attire. When
the Battle Mansion was the location of 13 WLOS TV, Alice was frequently seen by
employees. She is described as wearing a long, old fashioned dress. I spoke with two
employees of Grove Park Inn. The first was doing work inside the house. He swore that
some wires hanging from the ceiling were swinging back and forth on their own. His
partner was walking down the stairs when he screamed and ran down the rest of the
way. He claimed someone grabbed him. The second was a security guard making
rounds by the Battle Mansion. He claims he saw a man in a top hat and formal attire. He
later saw a picture of Dr. Samuel Battle and swears that is who he saw.
In 2006, the Battle Mansion was demolished. I wonder if the ghosts will take up
residence in the new condos they are building on the site.

Brown Mountain Lights
By Sarah Harrison

Probably the most famous of all mystery-light phenomena in the United States occurs in this area. Although they occur all
year long, July through September is the best time to see them. These luminous balls have been described as rolling or
tumbling along the ridge, they appear to rise above the ridge, they bump together and pull apart. The lights have been
reported to have been seen for hundreds of years. There is a Cherokee legend that claims they have been seen as far
back as the 1200's. Legend has it the lights are the spirits of the wives and mothers of Cherokee and Catawba warriors
killed in battle, searching for their loved ones. Another story is that the lights are the spirit of a slave searching for his
master who disappeared during a hunting trip. Places for viewing the lights are: Overlook at Mile Marker 20, off Hwy 181,
near Morganton, Wiseman's View on the edge of Linville Gorge (turnoff on 181 just past Linville ), Blue Ridge Parkway at
Mile Marker 310. See Investigations page for a first hand account of seeing the Brown Mountain Lights.

Thomas Divide Overlook, Cherokee, NC


The Thomas Divide Overlook is located on the Blue Ridge Parkway, mile marker 464, near Cherokee, NC. There have
been lights reported very similar to The Brown Mountain Lights. Some say more impressive.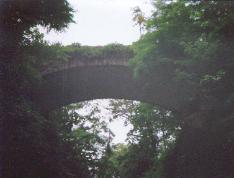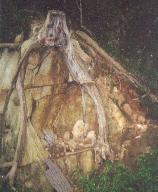 Adjacent to Helen's
Bridge, rather
spooky looking.
Photo by Sarah
Harrison

Helen's Bridge
Beaucatcher Mountain
By Sarah Harrison

Photo by Sarah Harrison

Helen's Bridge is located on Beaucatcher Mountain in Asheville. The legend goes that a woman, inconsolable after the death of her
daughter in a fire, hung herself from the bridge. There has been much paranormal activity associated with the bridge, apparitions,
orbs, etc. Helen is supposed to wander the mountain in a long gown, asking those she meets if they have seen her daughter. One of
the most unusual occurrences are the reports of car trouble at the bridge. I have spoken to people who have experienced car
trouble at the bridge or soon afterwards, including Joshua Warren of Lemur. My own car's battery died the morning after I visited
Helen's Bridge. Be warned, there is more present than the spirit of Helen. People have described seeing monstrous dark things
coming out of the woods. They have described being slapped, hit, and scratched. If you do visit, be respectful, do not try to invoke
or provoke anything up there.

The magnificent Grove Park Inn, located in North Asheville, is haunted by the famous Pink Lady. The legend goes that she was
pushed or fell from a balcony to her death. She has been seen numerous times by staff and guests. Room 545 seems to be the
location of a great deal of paranormal activity, from loud noises to apparitions. I spoke with the husband of a housekeeper who
reported seeing a lady dressed in pink walk into a restroom. The housekeeper waited for the lady to come out before going in to
clean. When the lady didn't come out, she went in to investigate. There was no one there. She called her manager to report this
and the manager told her that it was just the Pink Lady, like this was nothing out of the ordinary. Grove Park Inn's country club
has been reported to have paranormal activity. From lights turning on and off by themselves to a spectral voice telling security
guards to " get out".

Biltmore Estate

Barley's Taproom and the 1906 Massacre
By Sarah Harrison

Barley's Taproom on Biltmore Ave. in Asheville has been the site of paranormal activity, including footsteps, voices,
apparitions, and an elevator that operated by itself. On November 13, 1906, Will Harris killed five people, including two
police officers, and injured more before being gunned down himself. This happened in the area of what is now Barley's
Taproom and Eagle St. The town gallows once stood close to where Barley's now stands.

Craven Street Bridge
By Sarah Harrison

At the Craven Street Bridge, over the French Broad River, the ghost of a naked little boy has been seen.
The story is that he drowned in the French Broad River near the bridge.

Shotzy's Bar
By Sarah Harrison

Shotzy's Bar, in the S&W Building in Downtown Asheville, has had reports of paranormal activity. Employees have
seen a girl on the balcony and a waiter who walks the hall to the kitchen in back. Cooler doors open and shut by
themselves. The bar has a long history, including being a Speakeasy during prohibition.

This isn't paranormal, but ghoulishly interesting. A group of people, with way too much time on their hands, dress
up as zombies and hang out in Riverside Cemetery at night. They stumble around and act like the zombies from

Night of the Living Dead.
So be warned, if you are planning a nighttime adventure in Riverside Cemetery, there are
zombies afoot.

Church Street was created when unmarked graves were paved over. Paranormal activity and apparitions
have been reported there, including a woman dressed in old-fashioned clothes who appears to be searching
for something. The First Presbyterian Church is haunted by a female spirit known as the Black Abbey. She is
seen often during the Haunted Asheville Ghost Tours.

Inn on Main Street- Weaverville, NC
By Michael Tracey

100 year old home built by a doctor. The Innkeepers claim that pictures fall off the walls on New Year's Eve,
as the back door opens and closes. There are blood stains in the bathroom's subfloor that will not sand out.

Katherine's Bed and Breakfast
By Sarah Harrison

Katherine's B&B, in Montford, is haunted by Grace, the former owner's great grandmother, she is a friendly
spirit and is always followed by her faithful dog.

A face is seen in one of the top windows. The face is said to belong to a man who committed suicide when he
lost everything in the Great Depression. The bullseye on the sidewalk in front of the building is supposed to be
where the suicide landed. Why it was put there is a rather morbid mystery.

Biltmore Village Inn
Formally Reed House Bed & Breakfast
By Sarah Harrison

The house was built in 1892 by Samuel Harrison Reed. Samuel Reed's life was full of loss. Five of his nine children
died young and then his wife passed away. Six months after his wife's death, Samuel Reed died. His remaining four
children were sent to live with relatives. The house was abandoned for eight years in the '60's and ' 70's. The house
was purchased in 1973 and turned into a Bed and Breakfast. The sound of heavy boots on the stairs is frequently
heard. A spectral game of pool is another frequent occurrence. Bedroom doors open and close by themselves and
lights turn on and off by themselves.

Battery Park Hotel, downtown Asheville
By Sarah Harrison

The Battery Park Hotel is now an apartment building. It is said to be haunted by the spirit of a woman who was brutally
murdered. On the morning of July 17th, 1936, Helen Clevenger was discovered murdered in room 224. She had been savagely
beaten, her face slashed, and she had been shot. An employee, Martin Moore, eventually confessed and died in the gas
chamber. The Battery Park Hotel also has been the scene of a number of suicides committed by jumping from the roof. On
stormy nights Helen is seen wandering the halls of the old hotel. People have reported seeing bodies falling from the roof. A
tragic suicide being replayed over and over?

The Spectral Dog of Pond Road
By Sarah Harrison

On Pond Rd., near NC Farmer's Market, at the site of the old quarry, a spectral dog roams. On certain nights, at
midnight, you can hear a dog howling. The howling gets closer and closer until a huge black dog appears. The dog
runs through the site of the old quarry, until it reaches a certain spot. It then jumps into the air and disappears.

Lewis Memorial Park, North Asheville

WhiteGate Inn
By Sarah Harrison

Pritchard Park, downtown Asheville
By Sarah Harrison

Staging area for soldiers during the Civil War. Park is said to be haunted by a phantom Confederate soldier.

Smith-McDowell House
By Sarah Harrison

Smith-McDowell House Museum is a restored period house and history museum located at 283 Victoria Road on the Campus
of Asheville-Buncombe Technical Community College. Built in 1840, it is the oldest structure still standing in Asheville. It is
said to be haunted by four ghosts. See Photographs page for photos from this house.

Chicken Alley

The legendary ghost of Dr. Jamie Smith, who lived at this infamous Asheville locale known as "Chicken Alley" over a
century ago. For decades, countless sightings of his ghost have been reported. Dr. Smith was killed in a bar-room
confrontation in 1902 at the old historic "Broadway's Tavern". The tavern was destroyed by fire the following year. The
close vicinity known as Chicken Alley has been victim to his ghost for over one hundred years!
Chicken Alley is a narrow alley located off Woodfin St. just before the intersection of Woodfin St. and Lexington Ave.

Thomas Wolfe Memorial

Located at 52 Market St., Thomas Wolfe's boyhood home has no official ghost stories. However, I have interviewed
people who have seen ghosts in the home. A woman ghost is seen in the dining room and a male ghost is seen sitting
in a rocking chair in an upstairs bedroom. A face has been seen looking out an upstairs bedroom late at night when
the home is closed. The sounds of a phantom typewriter have been heard.

The Pink Lady of Grove Park Inn
By Sarah Harrison

Back in 1914, George W. Vanderbilt, the owner of Biltmore House, died from complications from a surgery he had for appendicitis.
His wife was extremely upset. So late at nights, in the Library, she would sit in front of the large marble fireplace, and talk with
George. Though he was never really there. Her servants started to think she was losing her mind. To this day late at night you can
still hear her voice very softly talking with George. Also, You can feel George's presence in the Billiard Room, and the 2nd floor Oak
Sitting room. One of his favorite rooms in the mansion. During rainy late nights, George would sit and read. Workers report
feelings of being watched, apparitions, voices, laughing and screams. A headless orange cat has been seen by numerous visitors
roaming the area between the Gardens and the Bass pond. The Pool Room is also a focal point of unexplainable events. The
sound of people swimming echoes throughout the entire lower floor in the dead of night. Insane laughter can be heard coming
from the drain at the bottom of the pool. It is said to be haunted by a lady in black. Employees report hearing footsteps on the
second floor. The Halloween Room is said to be haunted by a drunk woman wearing a 1920's flapper outfit.

Zombies of Riverside Cemetery

By Sarah Harrison

Church Street, downtown Asheville
By Sarah Harrison

Jackson Building, downtown Asheville
By Sarah Harrison

The cemetery workers tell stories that Mr. Lewis, who donated the land for the cemetery, rides through the park on a
ghostly horse. There has also been an encounter with a ghostly dog that chased a woman out of the cemetery. See
Investigations page about our investigation of this cemetery. Cemetery is located on Beaverdam Rd.

WhiteGate Inn and Cottage – Two ghosts haunt this charming Asheville bed and breakfast. One who is "calm and
warm" and is known as Miss B., who is seen in the guest rooms. Another, a suicide who hung himself in the
basement, is an "obviously disturbed" spirit.